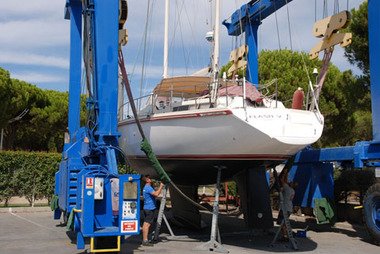 Our nautical activities :
The shipyard can dry-dock boats up to 75 tons with the support of Port Camargue's lifting services. We have a work area of 4.5 hectares, four ship lifts of 5, 14, 16 and 80 tonnes, three berthing docks, including two of 6.2 m wide by 3 m draught, and the third a quay with a mobile crane for specific lifting requirements.
Our nautical services :
Dry-docking : our two specialised dry-docking technicians-will bring your boat ashore, ensuring safety and stability, whether in the technical zone or directly at our premises.
Maintenance and refitting : anti-fouling, priming, painting, varnishing and polishing, gel-coating using a range of high quality products.
Cleaning of boat interiors through our partnership with MerMaid, and sail cleaning services.
Welding:all types of welding MIG/TIG, steel, aluminum and stainless steel, soldering and plasma cutting.
Pipe rolling and bending for gantries, biminis and railings in stainless steel and aluminum.
Plate bending machine for tanks and covers.
Marine engineering : installation, servicing, maintenance and repair of motors of all brands. Registered dealer of VETUS, HONDA and TOHATSU.
Marine carpentry : interior fitting, hull repair, fiberglass repair, rigging
Accredited center for anti-mould treatment
Sand blasting preparation of hulls and mechanical parts.
Marine electronics : installation and repair of electrical equipment
Installation of bow and windlass thrusters
boat licence
Our team can also help you getting your boat licence (coastal, offshore, and inland) with our partner, Alice – http://www.alice-permis-bateau.com/
Help and advice
Our skilled team will be glad to provide you with any advicein organising yacht trips, regattas, transoceanic crossings or even round-the-world tours. Do not hesitate to consult us for information on preparing your boat for extreme conditions, we are able to propose a range of products designed for professional seamen (Crewsaver lifejackets used by our friends at the SNSM [French equivalent of the RNLI] and Wheel Mark communication systems).